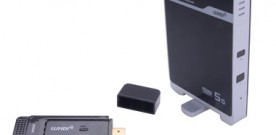 MBS presents Wireless 5G HDMI Transmitter And Receiver Kit.
Wireless HDMI Transmitter & Receiver Kits run at 5GHz operation frequency to deliver uncompressed HD video / audio 20 meters in open field.
This device kits make wireless connection by using WHDI Technology from HD Media Source Devices such as HD Disc Player, PC, Game Console, Set-top Box to Display Device for example LCD, Plasma or LED TV, Projector while keep wire-equivalent quality and no latency.
Features :
- Extends HDMI or DVI signals up to 20m (open space) or 12m.
- Supports Full HD 1080p signals.
- Real – time compressed audio is embedded within the HDMI output stream.
- Suitable for use with Home Cinema and Computer equipment.
- Extends IR and CEC Signals for remote control of AV Equipment.
- Connect to PC / Player / Game Box with HDMI port conveniently.
- Supporting the point-to-point transmission function currently which can be expanded to the multi-point to point transmission function.
Share
About Author
(0) Readers Comments