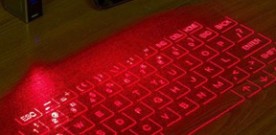 MBS present a new, truly portable input solution for your mobile lifestyle. Pair with virtually any device in seconds. It even doubles as a virtual multi-touch mouse, eliminating the need for extra peripherals.
With the flick of a switch, a full-size QWERTY keyboard is projected in the safe form of a laser directly onto any flat surface.
Compatible with both Windows, Android, Blackberry and iOS systems, Epic pairs via Bluetooth to your favorite devices.
Compatibility: iOS 4.0 and later, Android 4.0 and later, Windows XP and later, and Blackberry 10
Full-size QWERTY keyboard
Bluetooth connection
Compatible with latest devices
New pocket-size, slim design
Doubles as virtual multi-touch mouse
Built-in battery (2 hrs+ operating time)
Works on most opaque, flat surface
Simplified pairing
Innovation comes standard
Share
About Author
(0) Readers Comments