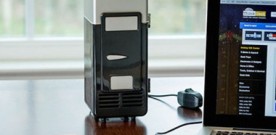 With the USB Mini refrigerator, you can keep your beverage Cool/Warm to drink at all times! The personal Fridge can hold 12 ounce which is illuminated from the blue LED inside the fridge.
Its built-in cooling plate quickly drops to its lowest operating temperature within 5 minutes after plugged in. The Fridge can be used in your cubicle, home office, bedroom or garage. It works with any computer operating system and does not require batteries. Simply plug the USB port in, insert your canned drink and enjoy.
Features :
- Support Cooler & Warmer
- Stylized as a mini fridge
- Keep your beverage / drink cold while you're at your computer.
- Just seconds after plugging in the Fridge, the cold plate chills to the perfect temperature.
- Easy installation, no driver required, plug & play.
Specifications :
- Powered by USB cable with a switch to a USB port located on your PC prior, no batteries required
- Fast cooling down to about 10C degree
- Fast Heating up to about 65C degree (optional)
- Capacity : can hold 450mls bottle standing
- Switch : COOL / OFF / WARM
- Internal LED Light
- Dimension : 19.5 * 8.3 * 9.4CM
- Weight : 480g
- Color available : Red, Black
Package Content :
- 1 x Red USB Mini Fridge
- 1 x User Manual
Share
About Author
(0) Readers Comments