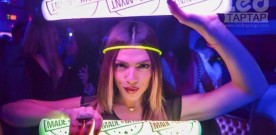 The LedTapTap is a lighting foam tube containing 3 Leds (RGB): red, green, blue. It is available in « multi-color » version as in « unique color » version. It works using a lighting system, located at the tube base, powered by 3 batteries « flat type", and offering 6 different lighting modes. This product meets all CE and ROHS standards.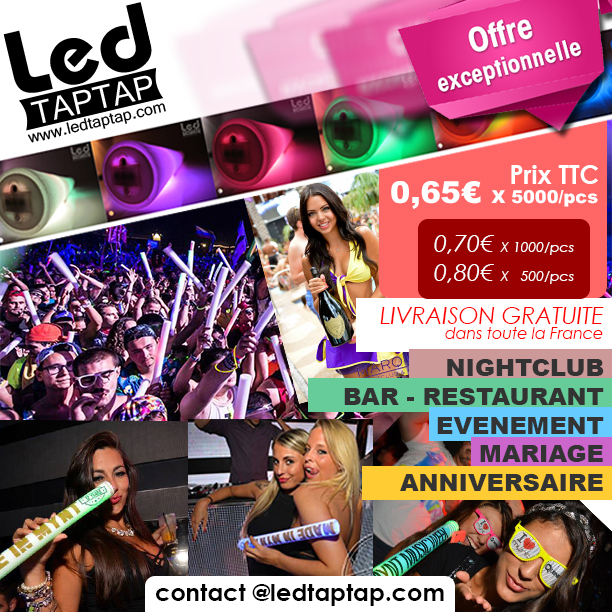 We invite you for discovering the LedTapTap, a bright ideal promotional item for your communication. It is effective and fun for the animation of all your events entertainment. It is ideally suited to illuminate all the parties or public events such as: football/rugby stadiums, concert halls, nightclubs, student parties, weddings, and so. For more than 2 years now, we are already distributing this product in many nightclubs in the United States.
Additional information :
-       Specifications : Lighting Foam Tube, 3 leds, 3 batteries, 6 colors,
-       Length : 39cm,
-       Diameter : 4cm
-       Packing: 47.5 x 42 x 48.5 cm
-       Pieces per Carton : 100 pieces.
Here are further information for your reference
- For any order concerning branded LedTapTap (logo printing in black on transparent shrink paper), order quantity is 1000 pieces. Delivery time is 3 weeks including shipping. Shipping cost not included.
- For any order concerning unbranded LedTapTap, stock available. Delivery time depending of shipping address. Shipping cost is not included.
Website : www.ledtaptap.com
Facebook : www.facebook.com/LedTaptap
Share
About Author
(0) Readers Comments