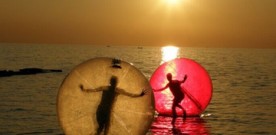 MBS presents Water Walking Ball.
If you've always wanted to try walking on water now you can! This ingenious invention is tons of fun for friends and family. This inflatable rolling ball uses a real waterproof German TIZIP zipper (providing a better seal than others on the market) so that children and adults can run, roll and flip on the surface of the water without getting wet. You can even use the ball to play on grassy lawns or beaches. It is also a perfect tool for showcasing your products in a new and exciting way.
A sealed water ball has enough breathable air for an average sized person to stay inside for 15-20 minutes without refilling.
YOU MUST CHANGE THE AIR AT LEAST EVERY 30 MINUTES FOR YOUR SAFETY.
Specifications :
- Material : Eco-friendly PVC or TPU with Germany TIZIP zipper
- Thickness : 0.8mm or 1.0mm
- Walking Ball Size : 2m in diameter
- Color: Transparent, based on MOQ color can be customized
The ball can bear a maximum weight of 396lbs/180kg
Share
About Author
(0) Readers Comments