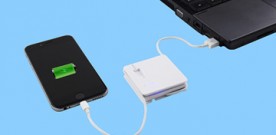 MBS presents Power Bank With Built-in USB Cable. With a built-in USB cable for charging your micro USB compatible phone and a built-in USB cable for charging your device, you'll never have to worry about carrying extra USB cables again.There's two USB ports to always keep your phone or tab charged.With internal protection functions for short circuit, overcharge and over temperature, safe, energy-saving and environmentally friendly.
Specifications :
- Materials : PC
- Battery type : Polymer lithium-ion battery
- Battery capacity : 1500mAh
- Input : DC 5V-1A
- Output : DC 5V-1A
- Dimensions : 60 × 60 × 13mm
- Net weight : 65g
- Color : Customized colors are welcome
- Compatible with : iPhone, iPad, Smartphones, PSP, Digital camera, DV, MP3, MP4 etc.
Share
About Author
(0) Readers Comments