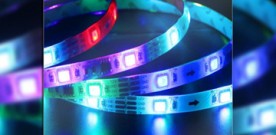 MBS presents LED Strip 5050RGB With IC. The product is a remote control uses infrared light bar for digital IC for interlligent LED color control changes controller by using the remote control for digital IC can be color, speed, pull the curtain closed, brush color, running trains, tailing, full – color and other effects, but you can save favorite style effects loop display, set the IC light points, automatic playback.
Features :
- Adaptive DC12V input voltage and input polarity protection function with.
- The remote control allows the preservation favorite style circulate show.
- Infrared remote control, you can set the lights IC points,support continuous button.
- Color changing, flexible control.
- Have style, pattern, speed, fast menory and other functions.
- Compact, standard input and output interface, easy to install.
Specifications :
- LED / M : 30LED / M with 10IC / M
- Color : 3 leds color change with IC
- Watt / M : 7.2W
- Voltage : DC12 / 24V
- Package : 5M / Roll
Share
About Author
(0) Readers Comments