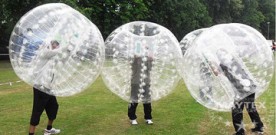 MBS presents Body Zorbing. Body Zorbing is also known as body zorb football, body zorb soccer, bumper balls, bubble zorbz, zorb football among other various other names. Basically, the 'product' is a Body Zorb Or Bumper Ball and you can undertake a wide range of activities with these body zorbz. The most popular and common use is football hence the term body zorb football. A more fun and great alternative activity is a no hold bared bedlam brawl in whereby the users just run free and smash into one another and the last person standing is the winner.
Features :
- The size is the most popular Medium Size being 1.5m which us suitable for teens-adults.
- These body zorbz are Transparent but we can provide a wide range of colours or styles, including unique logo or printing.
- This body zorb is fitted with 2 German material grab handles and a padded internal harness system.
Specifications :
- Material : TPU or PVC
- Dimensions : 1.5m. Diameter
- Thickness : 0.8mm PVC / TPU or 1mm PVC / TPU
- Color : Transparent, based on MOQ can be customized.
Share
About Author
(0) Readers Comments