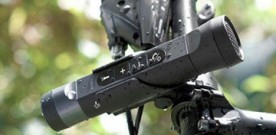 MBS presents 4-in-1 Multi-function Bluetooth Speaker.
Whether in the car or ridding a bike , no matter you are on traveling or at home , 4 in 1 multi finction Bluetooth speaker enables you to enjoy wireless wonderful music , LED lighting hands-free phone conversation and charging other product VIA USB connection . It will become your all – around helper.
Bluetooth stereo speakers
Enjoy full stereo sound wirelessly from your cell phone or other bluetooth devices.
Bluetooth hands-free phone conversation
4 in 1 multi function bluetooth speaker, can be quickly installed in the car's sun visor or bicycle handlebars , providing convenient phone conversation during driving.
LED lighting
Turn ON the ligthing function of 4 in 1 multi function bluetooth speaker. it enables you to stay away from darkness. Turn on the flashlight function, it makes your journey safer and more enjoyable.
USB charging
If your mobile or other digital electronic products are power off while travelling, you can use the 4 in 1 multi function bluetooth speaker to charge your mobile phone or other digital electronic products VIA USB connection
Specifications :
- Material : ABS
- Bluetooth version : 2.1 + EDR
- Battery capacity : 2200 mAh
- Frequency working range : 2.401 GHz ~ 2.480 GHz
- Bluetooth transmission : 10 M
- Supported files : HSP, HFP1.5, A2DP and AVRCP
- Talking time : 40 hours
- Music play time : 2 ~ 10 hours
- Charge time : 4 hours
- LED brightness : 100 LUX
- Input voltage : DC 5.0V 1000mAh
- Output voltage : DC 5.0V 500mAh
- Dimensions : 152 × 35.6 mm
- Net weight : 298 g
Package included :
- 4-in-1 bluetooth speaker ×1 pcs
- Sun Visor Clip/Stand ×1 pcs
- Car Charger Head ×1 pcs
- USB cable ×1 pcs
- Bicycle holder ×1 pcs
- User manual ×1 pcs
Share
About Author
(0) Readers Comments