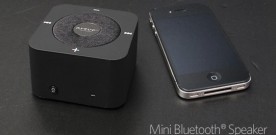 This item is 100% New and Original.  Bluetooth Speaker  v3.0 Car Kit Speaker Mini wireless stereo speaker Radio for  iPad, iPod, iPhone, Smartphones or even iPod Touch It's a portable wireless stereo speaker, able to stream music from any Bluetooth A2DP device, including iPhone, iPad – or even iPod Touch. This product is equally compatible with all other phones, PC-s, and MP3 players that support Bluetooth A2DP. Useit with your tablet for a mini home theater experience.
Ultra fast connection version 3.0: Bluetooth Version 3.0 is 8 times faster than Version 2.1, providing user ultra fast connection speed.
Support A2DP profile: After pairing with mobile through bluetooth function, BS-1 can stream music directly .
When you are listening to music, handsfree function stays available, when there is a call coming, the music will pause , after you finish the call, the music is on again.
Simple Pairing: no need pin code for most of mobiles , computers and tablets.
40MM inside mini speaker,high quality stereo music: Bluedio BS-1 bluetooth speaker is boasting of its high quality 40mm mini speaker, it will bring you amazing stereo sound quality.
Support 3.5mm jack line in: BS-1 can be connected with multi-speakers by using 3.5mm jack cable,
what 's more when the speaker is out of power, user can connect mobile with the bluetooth speaker BS-1 toplay music from mobile directly.
One hand simply full control hidden key : the user-friendly design of BS-1 allow you to put your hand on the speaker and easily select the function: next / previous song, volume up/down.
Dual color flashing lights at the bottom: when you use BS-1 at night or in a dark environment, the flashing light will delight your mood.
Ultra-long standby time and play time: 650mA huge battery capacity provide you at least 10 hours play time 130 hour standby time.
Rubberized color with nice finishing
Features
Bluetooth Standard : V3.0 Support protocol: A2DP, ARCP , Headset, Handsfree Rf
Frequency range : 2402 ¨C 2480 MHz. (ISM BAND) CLASS2
Receiver sensitivity : c- 80dBm (PER 1 %)
Communication distance : 10m (barrier-free space)
Audio frequency range : 20Hz ¨C 22 kHz
Size : 70 x 70 x 42mm
Weight : 87 g
Battery Capacity : 650mAH
Talk / Music Time : 6 hours
Charging Power Supply : Power Adapter DC 5V , 300mA
Charging time : 2 – 3 hours.
Share
About Author
(0) Readers Comments